It's always the way on this blog, isn't it? Months of hibernation, and then suddenly a flurry of posts, followed by silence. I am sorry! And I have so many things to show you, but I haven't got around to photographing them properly. So this is a catch-up and a confession:

Catch-up
It was wonderful going to the States in June. Wonderful... and jet-lagging. What happens when you get jet-lagged? You run around in a panic and forget essential things. Such as your beloved Kaffe Fassett toe-up socks. Clearly, this is no good, and a second pair must be knitted forthwith:
Plain toe-up heel-flap socks, 60 stitches, knitted to the very very end of the ball. I've tried fancier sock yarns, but for that perfect balance between softness and durability, Regia wins out every time. Holds its colour, holds its structure, is always comfortable and has really generous yardage. This is the Twilight colourway of the Kaffe Fassett lime, and I don't think I like it quite as much as the Earth, but oh well. Look how well it goes with my IKEA rug! That has to be the main thing, right?
The other great thing about going to the States, of course, was taking delivery of that amazing shipment of Knitpicks yarn. Mmm, Knitpicks. When will you start shipping to Europe and save our benighted continent from expensive yarns, eh? There's one for the presidential candidates to consider, I say. Forget the politics of oil and arms; it's the yarn trade that should be considered this election. (Or possibly not.) Anyway, finally, finally I got my hands on some Knitpicks Gloss in Parsley, and all summer I slogged away at a Thermal, size small.
And indeed, although the Rosy shrug was my official civilisation knit, I actually was knitting the Thermal on my civilisation day itself to help take the edge off the nerves, so it, too, partakes in the glitter of romance. It took a while. Quite a while. But once done, oh, it is possibly the most perfect knit ever, the first thing I've knit that really, really looks professionally made, goes with almost all of my outfits, always flatters. I wear it at least twice a week, and would do more if I could. We did a photo shoot yesterday, but as only one photo came out that did the Thermal justice, you'll have to wait till next week for the full shoot. In the meantime, here's a taster of its silky gorgeousness.
A confession
I'm still stash-busting. Hell yes. We've moved into a lofteen half the size of our old house, and that stash must be busted. Look, I cast on for a Lush 'n' Lacy in some lambswool I bought a year ago that's taking up a lot of space: I should be feeling the love, right? It's a chunky winter knit. I need to knit up the yarn. It's a popular pattern. And I should be MONOGAMOUS. Except that... on Friday, I took delivery of a copy of
Rowan's Studio 12
booklet. Which contains anything but chunky handspun knits. Instead, it's full of light, lacy, silky knits, fashion-forward and amazingly styled. I had to sit on my hands on Friday to stop myself attacking my Kidsilk Haze stash that I have left over from the shrug. It was physical, I can tell you. The lust! What is chunky lambswool compared to this?: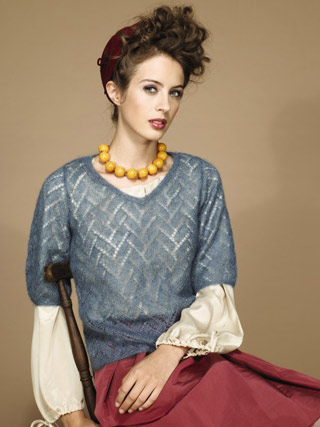 Just. Not. The. Same. That is what. Pray for my knitting chastity, for I fear I won't hold out long...